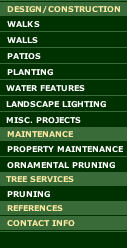 Protecting Trees and Shrubs in Winter
Evergreens, including arborbitae, boxwood, hemlock, juniper, pines, and yews are particulary prone to damage from wet snow. The snow may not only snap stems and branches, but cause upright stems to arch over and permanently lose their natural shape. The simplest method for dealing with snow accumulation on evergreens is to remove snow by using a broom, lawn rake, or pole. Upward sweeps of the broom to lift branches and shake free the snow is less likely to cause damage than downward pounding with the broom. During very cold weather when branches are brittle, it is best to leave the plants alone.
The stems of upright evergreens with multiple leaders, including arborvitae and juniper, can be protected from being spread apart under the weight of wet snow by tying together the leaders using strips of strong cloth or thick twine. Leaders should be tied about two-thirs of the way up the stems. The leaders of young multi-stemmed deciduous trees, such as birch, can be tied in the same fashion. Another technique used with upright evergreens involves tying rope or heavy twine at the base of the plant and then wrapping it in spiral fashion upward to the top and then back down in reverse spiral. Ties should always be removed before new growth begins in the spring. Small plants can be protected from snow and ice sliding off roofs by teepee-shaped wooden frames placed over them.
Tree Services
Rudy's Tree offers
tree pruning
.
Design/Construction
Rudy's Tree offers several different design/construction options ranging from
walks
,
walls
,
patios
and
planting
.
Maintenance
Is your lawn or yard starting to look its age? Rudy's Tree offers regular maintenance programs including
lawncare
and
ornamental pruning
.