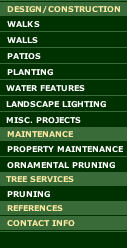 Put Mulch To Work In Your Landscapes
All of these - especially aesthetics - have given rise to one of the most misused practices in landscaping: overmulching. When mulch levels surpass four inches, problems arise. The most damage occurs when tree or shrub trunks become buried. The moisture retention can create wet and rotting conditions which, in turn, attract insect and fungi that destroy bark and the conductive tissues within, leading to plant failure. Repeated yearly application of mulch develops into stratified soil structure, which prevents proper air and water exchange. Remember, as living organisms, plant and plant roots respire, or breathe. Interference with this function leads to anaerobic respiration. Under these conditions, carbon dioxide levels build up in the soil leading to decreased nutrient uptake and poor plant growth. This condition can be recognized by the presence of noxious odors when the mulch is cultivated.
The benefits of mulching are very real, and go beyond aesthetics. Prudence, however, should be an integral part of any mulching program so that the long term needs of plant health are addressed.
Tree Services
Rudy's Tree offers
tree pruning
.
Design/Construction
Rudy's Tree offers several different design/construction options ranging from
walks
,
walls
,
patios
and
planting
.
Maintenance
Is your lawn or yard starting to look its age? Rudy's Tree offers regular maintenance programs including
lawncare
and
ornamental pruning
.