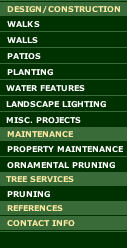 Hydrangeas for Every Garden
The other Hydrangea native to the U.S. Oakleaf Hydrangea, found in the Piedmont Mountains of southeastern USA, is an open decidious shrub growing 3-7' high. Long panicles of creamy white flowers bloom from July-Sept., at which time the foliage begins to turn to shades of gold to crimson over the fall months.
The macrophylla Hydrangeas, also known as "Mophead" Hydrangeas, are the showiest of the genus and are native to Asia, where they have been grown in cultivation for centuries. The large flowering types such as "Nikko Blue" and "Forever Pink" are but a few of the many cultivars readily available. The lace-cap form, technically a sub-species serrata, differ in that the panicles are made of both sterile and fertile flowers, thus the name Lace-cap. These plants have a more subtle effect in the garden, and come in a variety of color and size options as well. Both are a bit tricky to maintain, as they flower on second year growth, which often gets pruned off or falls victim to cold winters. Once pruning is mastered however, the rewards are great.
Tree Services
Rudy's Tree offers
tree pruning
.
Design/Construction
Rudy's Tree offers several different design/construction options ranging from
walks
,
walls
,
patios
and
planting
.
Maintenance
Is your lawn or yard starting to look its age? Rudy's Tree offers regular maintenance programs including
lawncare
and
ornamental pruning
.