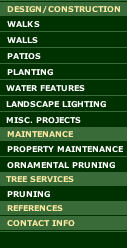 Gardening During Drought
Flowers and Vegetables:
Select drought tolerant types for drier sites.
Shelter with wind breaks or fabric until roots are well established.
Water deeply but infrequently.
Wide spacing to reduce competition for moisture.
Mulch plants.
Use trickle or drip irrigation systems.
Lawns:
Mowing - Set the cutting height on lawn mowers to at least 2 inches. Grass cut at 2-3 inches will develop deeper root systems and will be better able to tolerate drought.
Fertilizing - Avoid early spring high nitrogen fertilizer. Use turf fertilizer with a high percentage of slow release nitrogen.
Watering - Apply once inch of water per week in one application to allow for deep (4-6 inches) penetration of water into soil.
Leave grass clippings; clippings act as a mulch and recycle nutrients.
Allow grass to go dormant if water is not available; the turf will green up when conditions improve.
New lawn construction and repairs: do fall (late August - early September) seeding only and include drought resistant types such as fine fescues in the grass seed mix.
Allocation of Water: When water is limited, give priority to the following plants since they have the greatest need for water.
Newly planted trees and shrubs.
Newly seeded lawns or lawn areas that have been overseeded or repaired.
Trees and shrubs on sandy or shallow soils, and on sites exposed to sun and wind.
Vegetables; apply water when crops (tomatoes, peppers, cucumbers, etc) are flowering.
This article was taken from Hort Notes Volume 13, Number 4.
Tree Services
Rudy's Tree offers
tree pruning
.
Design/Construction
Rudy's Tree offers several different design/construction options ranging from
walks
,
walls
,
patios
and
planting
.
Maintenance
Is your lawn or yard starting to look its age? Rudy's Tree offers regular maintenance programs including
lawncare
and
ornamental pruning
.