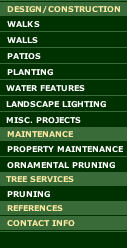 Effects of Mild Winter on Landscape Plants
Perennials that sent up some shoots should be okay if temperatures do not drop to extremes that approach the limits of the plants' normal hardiness range. However, there may be some browning of these shoots from frigid temperatures. Placing mulch over the plants will protect emerged growth from further damage.
The issue of cold damage to buds and twigs of trees and shrubs is a little more complicated. Woody plants go through two phases in preparation for winter: onset of dormancy and cold acclimation or hardening. Dormancy is brought on in response to short days in fall and decreasing temperatures. Plants then become acclimated or hardened by exposure to cooling temperatures. The depth of hardening varies among plant species and is in proportion to a plant's exposure to cold temperatures, i.e. the colder the temperature, the more cold tolerant the plant becomes. Since fall and early winter temperatures were for the most part above normal, it would seem that the depth of hardiness developed by trees and shrubs to this point is not very deep. Still, if future temperature decreases are gradual, as opposed to precipitous, the acclimation process will continue and plants may not experience any damage due to cold weather.
Tree Services
Rudy's Tree offers
tree pruning
.
Design/Construction
Rudy's Tree offers several different design/construction options ranging from
walks
,
walls
,
patios
and
planting
.
Maintenance
Is your lawn or yard starting to look its age? Rudy's Tree offers regular maintenance programs including
lawncare
and
ornamental pruning
.