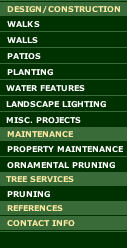 Drought Affects on Trees
What can we do? Apply 2 to 3 inches of mulch around trees. This conserves soil moisture and keeps soil temperature cool. Water trees in the evenings. Lower temperatures result in less evaporation and better conservation of water. This means more water for the trees!
Do a soil moisture test. Remove a small amount of soil near the roots of a tree and squeeze. If you can form a sticky ball, the soil is too wet. If it breaks like chalk, it is too dry. If the trees do need watering, use proper watering techniques. Light sprinkling only settles the dust and evaporates quickly in the sun. Give the plants a weekly, deep soaking with a lawn sprinkler, allowing the water to seep at least 12 - 18 inches down. This helps the water to get below competitive grass roots, and reach the tree's deeper roots. When irrigating, the amount of water should be based on the soil texture: In fact, if you water in too shallow a manner, the tree's roots could turn upward in a search for the lightly sprinkled water. When the soil then dries, the new, shallow roots will be killed more readily.
Over watering can be just as bad as under watering. Do not water if there has been adequate rainfall. Let the soil get somewhat dry between watering to avoid "drowning" your trees.
If most of your work is landscaping of turf and you are not a trained arborist with proper equipment, then please sub-contract out the tree work or consult with a Certified Arborist. It will be a lot safer and cost effective in the long run. For additional information on how to professionally maintain your clients trees, contact the Massachusetts Arborist Association at (508) 653-3320 or the National Arborist Association at (800) 733-2622. Keep cool and have a safe prosperous season.
Tree Services
Rudy's Tree offers
tree pruning
.
Design/Construction
Rudy's Tree offers several different design/construction options ranging from
walks
,
walls
,
patios
and
planting
.
Maintenance
Is your lawn or yard starting to look its age? Rudy's Tree offers regular maintenance programs including
lawncare
and
ornamental pruning
.